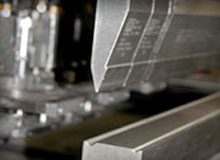 Our customers have relied on us at Alloy Fabricators to provide precision metalworking and fabrication for over 75 years. We provide accurate custom forming solutions utilizing our high precision press brake. This brake has a maximum tonnage of 100 tons, and can accommodate lengths up 120" and material thicknesses up to 5/8", depending on width. The materials we work with include aluminum, as well as carbon, stainless, galvanealed, and galvanized steel. Our machinery accepts these materials in sheets, perforated sheets, expanded metal, flat bar, wire mesh, angles, tubing, and round stock. Our team of engineers and designers offer in-house engineering, design, and manufacturing services as well. When metal forming services aren't enough, we also offer an encyclopedic variety of additional machining and metalworking services. These include heat treating, metal spinning, polishing, stamping, CNC machining, waterjet cutting, and a whole host of others. We work with volume orders in sizes that range from single prototypes to medium production runs. Our lead times average 2 to 3 weeks, with emergency and rush services available when required. Customers from a broad range of industries have employed our forming services, including agriculture, automation, food processing, industrial, medical, and oil & gas.
For more information about our forming services, see the information in the table below, or Contact Us directly.
Forming Capabilities
Forming Process

Press Brake Forming
Material

Aluminum
Carbon Steel
Stainless Steel
Galvanealed and Galvanized Steel
Material Forms

Sheet
Perforated Sheet
Expanded Metal
Wire Mesh
Flat Bar
Angles
Tubing
Round Stock
Forming Tonnage

Max: 100 Ton
Forming Length

Up to 120"
Forming Width

Up to 60"
Forming Material Thickness

Up to 5/8"

Dependent on Material Width
Additional Services

Anodizing
Assembly
CNC Machining
CNC Punching
CNC Shearing
CNC Tube Bending
Cutting
Drilling
Electro Polishing
Engineering
Grinding
Heat Treating
Laser Cutting
Manual and Robotic Welding
Metal Spinning
Polishing
Powder Coating
Quality Control
Silk Screening
Stamping
Vibratory Finishes
Waterjet Jet Cutting
Zinc and Chrome Plating
Production Volume

Specialty Production Shop
Prototype
Low to Medium Volume
Short to Medium Runs
Lead Times Available
2 – 3 Weeks
Emergency/Rush Services Available