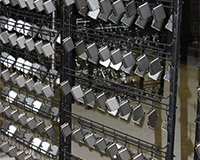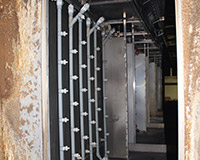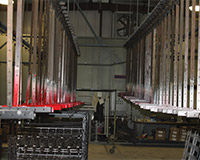 At Alloy Fabricators, we have made it our mission to provide value to our customers by offering a portfolio of services that deliver on quality, convenience, and affordability. In pursuit of this goal, we have engineered and built a proprietary powder coating line that incorporates state-of-the art processes, each designed using the expertise of seasoned professionals in the powder coating field. Our powder coating process creates the most durable, long lasting, and corrosion resistant finishes in the industry.
We use a 5-stage pre-treatment process that features a continuously monitored reverse osmosis water supply for precise control over washer chemistry and a spotless finishing rinse. Our electrostatic spray guns have the flexibility to uniformly apply a range of coating formulations - epoxy, hybrids, polyesters, and urethane in over 150 stock colors - over aluminum and steel substrates. Energy efficient variable speed drives give us tight control over all process parameters all the way through to final cure in our large batch bake ovens.
With our large part capacity of 60" x 120" x 72", our powder coating services meet the needs of a variety of demanding industries, including medical, automotive, and food & beverage. We handle production jobs from a single workpiece to ten thousand units with skill and expediency.
For more information about our powder coating services, see the information in the table below, or Contact Us directly.
Powder Coating Capabilities
Coating

Epoxy
Hybrids
Polyesters
Urethane
Over 150 stock colors

Substrate

Aluminum
Carbon Steel
Stainless Steel
Pre-Coating Preparation

Stainless Steel 5 stage Iron Phosphate spray washer
Reverse Osmosis water for all process stages and overflowing rinses
Application Process

Electrostatic
Part Capacity

Max : 60" x 120" x 72"
Additional Services

Anodizing
Assembly
CNC Machining
CNC Punching
CNC Shearing
CNC Tube Bending
Cutting
Drilling
Electro Polishing
Engineering
Grinding
Heat Treating
Laser Cutting
Manual and Robotic Welding
Metal Spinning
Polishing
Powder Coating
Quality Control
Silk Screening
Stamping
Vibratory Finishes
Waterjet Jet Cutting
Zinc and Chrome Plating
Production Volume

1 min — 10000 max
Specialty Production Shop
Prototype
Low Volume
High Volume
Small to Medium Runs
Lead Times Available

2 to 3 Weeks
Emergency services available
Rush Services Available