Laser Cutting System with Rotary Index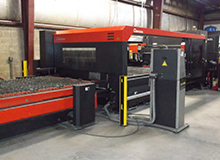 Our facility has the ability to cut flat sheet, tube, and pipes using the Amada FOM2 3015 NT RI — the most versatile Rotary Index laser cutting system available. This machine is engineered to include an innovative Rotary Index with the power and speed to efficiently cut mid to thick materials. At the heart of this machine is a fast axial laser that makes this the most reliable laser cutting tool today. With the Rotary Index enabled, the cutting head may be positioned near the chuck so that dead zone is minimized. As an added benefit, the software companion to the FOM2 3015 NT RI includes a wide range of pre-programmed cuts which make it easy to fabricate tubular structures that fit together for welding. Our expert personnel are always available for in-house engineering, design, and manufacturing, with a wide array of additional services available as well. Whether our clients need anodizing, assembly, cutting, polishing, grinding, laser cutting, or a host of other metalworking services, we have them covered. We offer short lead times of typically just 2 to 3 weeks, with rush and emergency services available when required. A range of production volumes are available as well, from single prototypes to medium runs.
For more information about our laser cutting services, see the information in the table below, or Contact Us directly.
FOM2RI 3015 (Rotary Index) Specifications

Sheet & Plate:.010 to 7/8" thick
Tube Shapes: Round, square, rectangular, angle and channel
Round Tube: ¾˝ (19mm) – 8.66˝ (220mm)
Square Tube: ¾˝ (19mm) – 6˝ (150mm)
Rectangle: 8.66˝ (220mm) (diagonal)
Angle: 3.54˝ (90mm) X 3.54˝ (90mm)
Channel: 6˝ (150mm) wide
Maximum: Weight 441lbs. (200kg)
Maximum Tube Length: 236.2˝ (6000mm) (19.6' — with one reposition)
Rotation Speed: 100 RPM
FOM2RI 3015 (Standard) Specifications

Motion Package

Work Area: X = 121˝ (3070mm), Y = 61˝ (1550mm), Z = 7.87˝ (200mm)
Maximum Thickness: 7/8 ˝ Mild steel, ½˝ Stainless Steel, 3/8 ˝ Aluminum
Maximum Work: Weight 2,000 lbs
Repeatability: +0.002
Oscillator: AF4000iB – 4000 watt

Additional Services

Anodizing
Assembly
CNC Machining
CNC Punching
CNC Shearing
CNC Tube Bending
Cutting
Drilling
Electro Polishing
Engineering
Grinding
Heat Treating
Laser Cutting
Manual and Robotic Welding
Metal Spinning
Polishing
Powder Coating
Quality Control
Silk Screening
Stamping
Vibratory Finishes
Waterjet Jet Cutting
Zinc and Chrome Plating

Production Volume

Specialty Production Shop
Prototype
Low to Medium Volume
Short to Medium Runs

Lead Times Available

2 – 3 Weeks
Emergency/Rush Services Available