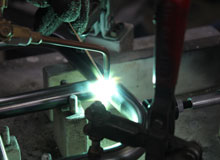 At Alloy Fabricators, we have been providing high quality metalworking since our inception in 1939. Our long tradition of excellence is exemplified by our multiple welding capabilities. We offer MIG, spot, AC and DC TIG welding, as well as brazing services. Our welding services include free hand welding up to 10', and a 6 axis, 2 station robotic welder as well. We weld materials such as aluminum, stainless and carbon steel in a variety of thicknesses. Our MIG welding capabilities can accommodate materials up to ¾" thick; our TIG welding systems can join materials up to 3/16", and we braze thin metals up to 1/8". We spot weld up to ¼" as well, and can weld MIG or TIG aluminum up to ¼". Our robotic welding stations feature table sizes of 54" x 66" and 27" x 66", and are capable of welding steel up to ¾". In-house engineering, design, and manufacturing is available from our highly experienced personnel. Seam finishing options are also available, including grinding and general clean-up for a smooth finish after welding. A comprehensive variety of additional machining services is available in addition to welding, including anodizing, assembly, drilling, heat treating, laser cutting, and CNC forming, machining, punching, shearing, and tube bending, just to name a few. We work with volumes as low as a single prototype to medium volume production runs, with turnaround times averaging 2 to 3 weeks and rush/emergency services available when needed.
For more information about our welding services, see the information in the table below, or Contact Us directly.
WELDING CAPABILITIES
Arc/Resistance Welding Process

MIG
Spot
TIG – AC & DC
Brazing
Materials

Aluminum
Carbon Steel
Stainless Steel
Welding Operation

Free Hand – Up to 10 ft.
Robotic – 2 Station Welder, 6 Axis
Material Thickness

MIG – Up to ¾ in.
TIG – Up to 3/16 in.
Spot – Up to ¼ in.
Brazing – Thin Metals Up to ⅛ in.
Aluminum – Up to ¼ in.
Robotic Welding Station

Table Size

54" x 66"
27" x 66"

Capable of Welding Up to 3/4" Steel
Value Added

Weld Fixtures

In-House Engineering
In-House Design & Manufacturing
Seam Finishing

Grinding
Clean Up for a Smooth Finish
Additional Services

Anodizing
Assembly
CNC Machining
CNC Punching
CNC Shearing
CNC Tube Bending
Cutting
Drilling
Electro Polishing
Engineering
Grinding
Heat Treating
Laser Cutting
Manual and Robotic Welding
Metal Spinning
Polishing
Powder Coating
Quality Control
Silk Screening
Stamping
Vibratory Finishes
Waterjet Jet Cutting
Zinc and Chrome Plating
Production Volume

Specialty Production Shop
Prototype
Low to Medium Volume
Short to Medium Runs
Lead Times Available
2 to 3 Weeks
Emergency/Rush Services Available