SHEARING, PUNCHING AND FORMING SERVICES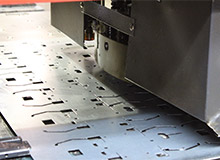 With 75 years in the business, we have built a solid reputation for accurate machining at Alloy Fabricators. Our customers count on us to provide high-quality services, including shearing and punching. We shear and punch metals that include aluminum, carbon and stainless steel. Our facility houses top quality equipment, including a CNC punching machine that provides up to 220 hits per minute. We can punch with a force up to 33 tons, and in lengths up to 120" and widths up to 40". Our punching equipment can handle a variety of material thicknesses as well, including carbon steel up to 3/16", stainless steel up to 1/8", and MIG or TIG aluminum up to ¼". For shearing, we cover workpieces of many different sizes as well. We shear lengths up to 120", widths up to 60", and thickness from 22 gage to 3/16". Our accurate equipment shears to tolerances of 0.007" to 0.020". Our expert personnel are always available for in-house engineering, design, and manufacturing, with a wide array of additional services available as well. Whether our clients need anodizing, assembly, cutting, polishing, grinding, laser cutting, or a host of other metalworking services, we have them covered. We offer short lead times of typically just 2 to 3 weeks, with rush and emergency services available when required. A range of production volumes is available as well, from single prototypes to medium runs.
For more information about our searing, punching, and forming services, see the information in the table below, or Contact Us directly.
Punching
Punching Operation

CNC
Punching Speed

Max: 220 Hits per minute
Punching Material Thickness

Carbon Steel: 3/16"
Stainless Steel : 1/8"
Aluminum: 1/4"
Punching Tonnage

Max: 33 tons
Punching Length

Up to 120 in.
Punching Width

Up to 40 in.
Punching Accuracy

± 0.010"
Shearing
Shearing Length

Up to 120"
Shearing Width

Up to 60"
Shearing Accuracy

0.007" to 0.020"
Shearing Material Thickness

22ga – 3/16 in.
Metals

Carbon Steel
Stainless Steel
Aluminum
Additional Information
Additional Services

Anodizing
Assembly
CNC Machining
CNC Punching
CNC Shearing
CNC Tube Bending
Cutting
Drilling
Electro Polishing
Engineering
Grinding
Heat Treating
Laser Cutting
Manual and Robotic Welding
Metal Spinning
Polishing
Powder Coating
Quality Control
Silk Screening
Stamping
Vibratory Finishes
Waterjet Jet Cutting
Zinc and Chrome Plating
Production Volume

Specialty Production Shop
Prototype
Low to Medium Volume
Short to Medium Runs
Lead Times Available

2 – 3 Weeks
Emergency/Rush Services Available