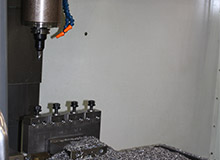 At Alloy Fabricators, our experienced, energetic, and motivated staff is capable of CNC machining parts that exhibit an elevated level of quality. Their exceptional technical skills enable us to make use of our modern manufacturing equipment to the fullest extent possible to provide accurate and repeatable results in the most efficient manner.
The expertise of our CAD/CAM engineering allows us to develop strategies for continuous, efficient, and high reliability production. Featuring a 16" x 40" work envelope, our computer controlled machining centers enable us to create both simple and complex geometries with minimal setup. We are able to execute a wide range of machining techniques with tolerances as close as ±0.002" to fabricate components from materials including aluminum, steel, and plastics.
We operate with short lead times and handle orders of any size and complexity. Our long list of additional fabrication and finishing services provides you with the cost and schedule advantages of using a single supplier. Quality is emphasized, expected, and validated at each step of the production process to ensure your parts are 100% to specification.
For more information about our CNC machining services, see the information in the table below, or Contact Us directly.
CNC Machining Capabilities
Machining Processes

Milling
Boring
Tapping
Knurling
Broaching
Counterboring
Countersinking
Pocketing
Profiling
Reaming
Spline
Parting/Cutting
Facing
Equipment

CNC Machining Center
Lathe
Bridgeport Mill
Equipment Capabilities

CNC Control Capabilities
Milling
CAD Design Services
CAM Programming Services

Machinery Axis

3
Work Space Capacity

Max: 16" X 40"
Tolerances

±0.002"
Fixturing

Three-jaw chuck
Four-jaw chuck
Materials (Metals)

Aluminum
Carbon Steel
Stainless Steel
Plastics
Additional Services

Anodizing
Assembly
CNC Machining
CNC Punching
CNC Shearing
CNC Tube Bending
Cutting
Drilling
Electro Polishing
Engineering
Grinding
Heat Treating
Laser Cutting
Manual and Robotic Welding
Metal Spinning
Polishing
Powder Coating
Quality Control
Silk Screening
Stamping
Vibratory Finishes
Waterjet Jet Cutting
Zinc and Chrome Plating
Production Volume

Specialty Production Shop
Prototype
Low to Medium Volume
Short to Medium Runs

Lead Times Available

2 – 3 Weeks
Emergency/Rush Services Available